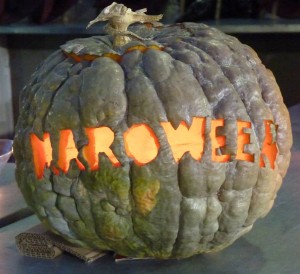 A few kilometres down the old N-340 coastal road from Nerja is the small village of Maro where, for the past couple of years, they have combined their traditional Fiesta de la Castaña y el Boniato (Festival of the Chestnut and Sweet Potato) with the increasingly popular Halloween celebrations in an event called Maroween.
People began drifting into the Plaza de Maro during the late afternoon for a scheduled six o'clock start to the festivities, although in reality nothing ever starts on time in Spain, not even TV programmes, and this event was no exception.
It is basically a question of for six o'clock read six thirty or seven o'clock. It makes no difference as everyone is well accustomed to Spanish timekeeping.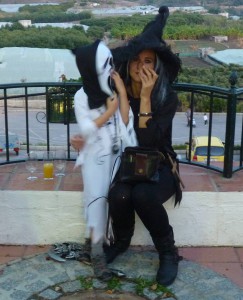 By seven o'clock the square was packed and the smell of roasting chestnuts filled the evening air. An orderly queue for the chestnuts began almost as soon as the coals were lit but once the first ones were ready the 'orderly' went by the board and it became more like a collapsed rugby scrum. All part of the fun, though, but no place for the timid.
There were two dance groups providing entertainment, La Carpa and the Dance Academy Cristian, and music was courtesy of the trio Sondelarte. Beer and tinto de verano was only €1 and the chestnuts and sweet potatoes were free, what more could you ask?
An excellent little village celebration and well supported. There was even a large group from Barcelona who took time out from their vacation in Nerja to enjoy the festivities.
MORE MAROWEEN 2011 PHOTOS