Why oh why do people do it? Whenever a procession, road race, bicycle run or any other event starts, it is the cue for people to start barging their way from one side of the street to the other or, as today, even barging their way up through the middle of a religious procession.
Some of the organisers were becoming hoarse from begging people to respect the procession. All they got for their efforts was a laugh as the offenders continued and barged their way through. People with prams, suitcases, shopping and even bicycles were pushing their way through the centre of the procession.
The lead group, mainly children, were forced to use their crosses to try and form a barrier to stop people moving up through the centre but had to give up as they were just being bundled out of the way.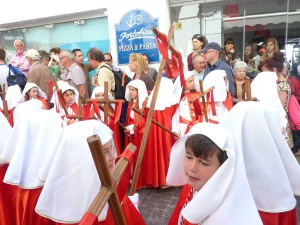 The offenders were not only tourists, of which there were many, but also quite a few local Spanish residents. Disgraceful behaviour.