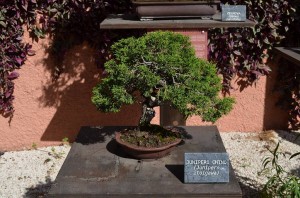 The Jardín Museo del Bonsái – Bonsai Garden Museum – in plaza de Marruecos, Almuñécar, has become the most important site of its kind in Andalucia and one of the most important in Spain after the Bonsai Museum in Alcobendas, Madrid.
The Jardín Museo del Bonsái covers 1,800 square metres, with winding paths leading to different levels. It is very well laid out and it is fascinating to see all these 'little trees', just like the real thing only smaller.
Relaxing, ambient music fills the air as you wander round the garden, presumably good for the plants as well as the visitors.
The garden is maintained by the Asociación Amigos del Bonsái Costa Tropical – The Association of Friends of the Bonsai on the Costa Tropical. Entry is a mere €2 and worth every cent. A very serene place to wander. PHOTOS