It is often the case, and it applies in many countries, that new/general/amended/temporary parking schemes seem to be applied with the motto 'sneaky's best'.
This happened at Feria last year in Nerja, a small sign notifying a change of rules only appearing at the top of a very long street so people entering from side streets were blissfully unaware…and duly fined €200.
Then there is this:
On Calle Frigiliana, at the side of the Burriana apartments, parking is permitted for loading and unloading only between 8am and 2pm, on all days except Sundays and Fiestas. There is an official sign notifying drivers of this. It is not prominently displayed and is only 25cm wide.

Until last year, cars were being towed away, usually at least one a day and the dreaded "red triangle" was left pasted on the pavement. The fine is 200€ (halved for prompt payment) plus 40€ removal fee.

To help unsuspecting motorists, last October, the Burriana Community put up two private but prominent notices and the "red triangles" almost disappeared.

Despite the fact that these notices have been seen by the police almost every day since then and no action taken, the Police suddenly acted last week and demanded their removal. – as they were "an infringement".

I wonder if the timing of this action is linked to the high season for tourists or a realisation that income had been adversely affected. I am absolutely certain that there will be a huge increase in the number of motorists caught.

Welcome to Nerja!
Yours,
LOCAL RESIDENT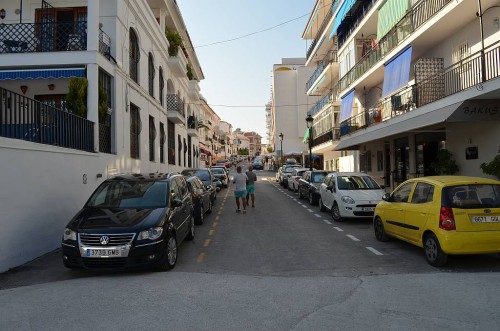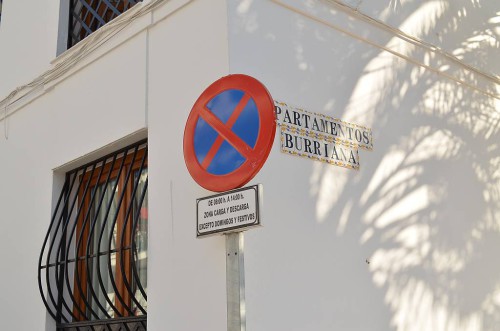 This was the helpful sign deemed 'an infringement and inaccurate'. As far as the accuracy goes, technically it should be €200 fine plus €40 for towing, although of course the end result is exactly the same, namely €240 in total.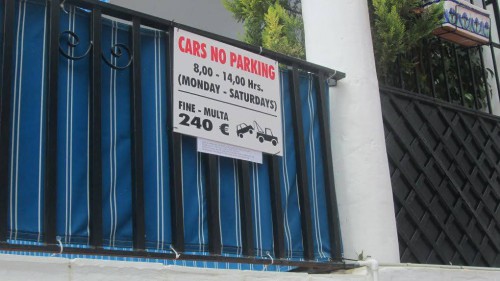 As far as the infringement is concerned, only a municipal authority, as the owner of the land (road), has the statutory power to erect a regulatory sign such as 'No Parking'. Perhaps an advisory notice asking or reminding people to make sure they read the official parking notice at the end of the street would be acceptable, although there is no guarantee of course.