Acclaimed Israeli trumpeter and Bassist Avishai Cohen brings his quartet to the Finca El Portón in Malaga on Friday, July 6th at 9.30pm.
Avishai began performing in public in 1988 at age 10, playing his first solos with a big band and eventually touring with the Young Israeli Philharmonic Orchestra to perform under the likes of maestros Zubin Mehta, Kurt Masur and Kent Nagano. Having worked with Israeli folk and pop artists in his native country and appeared on television early on, Cohen arrived as an experienced professional musician when he took up a full scholarship at Berklee College of Music in Boston. In 1997, the young musician established an international reputation by placing third in the Thelonious Monk Jazz Trumpet Competition. Avishai came of age as a jazz player as part of the fertile scene at the club Smalls in New York's West Village.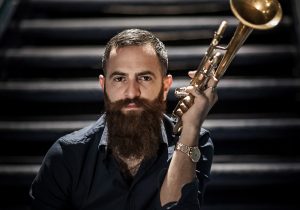 Avishai's "Cross My Palm With Silver" was picked as one of NYT's Best Albums of 2017.
 "Cohen is a multicultural jazz musician, among whose ancestor is Miles Davis. Like Davis, he can make the trumpet a vehicle for uttering the most poignant human cries."   — Ben Ratliff, The New York Times.
Many say Cohen has assumed the spirit of the great Miles Davis, reincarnated into a powerful combination of lyricism and intellect. He's among the best in world…
– LA Weekly
Venue address: Finca El Portón, Calle Juan Carlos I, Alhaurín de la Torre, Málaga 29130.
Tickets are 15€ and can be bought at any post office or online by clicking on the following link Mientrada.net or by calling tel-902646289