Just before dawn, Last Saturday the Civil Guard boat "Río Miño" rescued 24 migrants in the Alboran Sea, 50 miles south of Nerja.
The occupants 23 men and one woman all of Maghrebi origin (North African) were picked up by the Civil Guard boat and transferred to the Maritime Rescue boat "Salvamar Alnitak" before being taken to the Port of Malaga.
Later in the day at around one o'clock the rescue boat "Salvamar Alnitak" was called upon once more, this time to pick up 56 people -all of them men and of sub-Saharan origin who were trying to make their way illegally into Spain.
So far 19,000 asylum-seekers have arrived in Spain since the beginning of the year, surpassing the number of migrants trying to reach Italy from North Africa.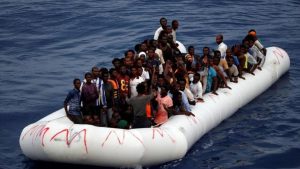 Travelling by inflatable boats often without enough fuel to reach the Spanish mainland the increasing number of migrants is putting a strain on Spain's coastguard.
People smugglers in Morocco inform human rights activist groups when a boat sets off from Africa, who then informs the coastguard that a boat is on its way, according to coastguard official Oriol Estrada.
"The people traffickers know that the lifeguards are going to come for them and call to say that a certain boat has left such-and-such a coast at a certain time with however many people. They even give the names of those aboard."
Allegedly, a similar situation was happening between Libya and Italy before Rome's recent hard-line tactics following the ruling party leader's comments that the rescue ships were nothing more than a "taxi service."