According to new calculations made regarding the cost of renting an apartment in 15 major Spanish cities, it is now cheaper to buy a property than it is to rent.
In none of the cities looked at did the cost of a mortgage equal more than 31% of an average family's earnings.
report, published by global real estate agency Century 21 found that the cheapest place to rent an apartment in the cities studied was Merida where renting would account for 8% of a family's income.
If you were to buy in Seville the cost of your mortgage would eat up 19% of your income based on household earnings of 2,671€ per month. In Valencia, where salaries are a little higher a mortgage would take up just 16% of a family monthly income.
Meanwhile, if you were to rent in Seville or Valencia it would take up 32% and 26% of a family's monthly income.
In the province of Murcia where the average income is 2,683€ per month renters pay 20% of their income compared to mortgage holders 11%. Looking at the capital Madrid, where a 90sqm apartment would have a mortgage of 960€, the same apartment, if rented, would fetch 1,419 per month, 40% of a family's income.
"Today, major cities around the world face the challenge of providing affordable and adequate solutions.
"This is especially the case in large cities such as Madrid and Barcelona, where there is strong population growth, while housing options with affordable prices are scarce."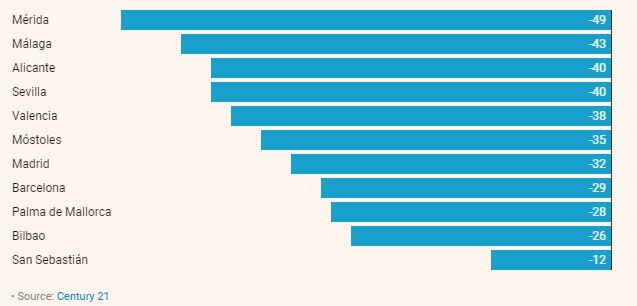 According to a study done by the Bank of Spain, rents have risen 50% over the past five years.
Unlike many other European countries only 23% of the population rent which is less than the EU average of 30%.
All that said, researches are estimating that the many new apartments recently built in Nerja and surrounding areas will offer those wishing to rent, a more competitively priced option.