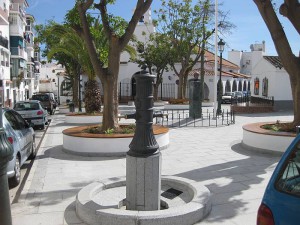 The Plaza de Andalucia was the first of the popular squares in Nerja to undergo major renovation as the Central Government pours money into municipalities under such schemes as the State Plan for Local Investment (FEIL), more commonly known as the 'Plan Zapatero'.
Currently undergoing renovations are Plaza Cavana, Plaza de la Ermita and Plaza Cantarero.
Plaza de Andalucia, tucked away in the old part of the town, is dominated by the Iglesia San Miguel – St Michael's Church.
The renovations have not changed the character of the square, or the area, and it remains a peaceful little outpost, a place to relax.
The contains a bust of Blas Infante (Blas Infante Pérez de Vargas), a writer, politician, historian and musicologist who is considered the father of Andalucian autonomy. Unfortunately, he never saw his dream come true as he was executed by Franco forces at the beginning of the Civil War.
On February 28th 2010, Andalucia Day, the square was the scene of the official municipal commemorative acts.