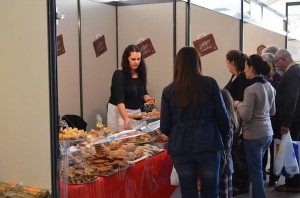 The first Mercado de Productos de los Parques Naturales de Andalucía – Market of Products of the Natural Parks of Andalucia – has been taking place in Plaza de España, Nerja.
The market was organised by FASEPAN, the Federation of Licensees of the brand Natural Parks of Andalucia, with the aim of raising awareness of the available foods, crafts and nature resources of, in this instance, the Natural Park of the Sierras de Tejeda, Alhama and Almijara, promoting the benefits of FASEPAN certification for local companies and, of course, persuading people to purchase the products.
There were around twenty companies or organisations participating in the market and it was possible to sample several different olive oils and locally produced wines as well as displays of ecological preserves, honey (one stand with a glass-sided beehive on display), organic produce and locally produced crafts.