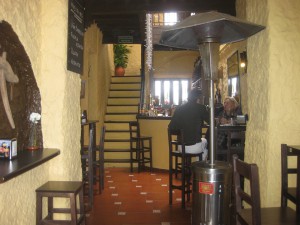 El Desvan at number 23 calle Pintada, Nerja, is a fairly recent addition to the tapas scene so, naturally, we had to check it out.
The entrance to El Desvan is narrow and the doorway is flanked by a couple of high tables with bar stools so you can sit and have a drink and a tapa and take a welcome break from an arduous retail therapy session.
As you enter, you realise that the bar/restaurant is much bigger than it looks from the outside, a sort of Tardis effect. The first section is long and narrow, but nevertheless sufficient for quite a few people. Not crowds, but quite a few.
Off to the left is a dining area and past that is an open air patio at the back. There is also an upper deck for dining.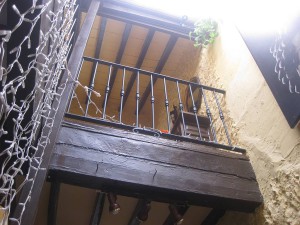 All in all, a very good utilisation of the available space. The bar counter itself is quite small, but again, sufficient for ordering a drink and a tapa, which is the point of the exercise.
A small beer and a tapa was €1, which is excellent value. I had tortilla and it was delicious. This is one of the places where the tapas are not on display and they are chosen for you rather than you selecting one for yourself.
Anyone who is, for example, vegetarian or who has special dietary needs would need to make this fact known at the time of ordering drinks. My experience has always been that bars are only too willing to accommodate any special requirements, such as gluten-free etc.
The menu is not extensive, which is not necessarily a bad thing, but does contain some interesting dishes and at a nice price.
Nice decor, good service, friendly atmosphere and great value for money. Well worth checking it out, and don't forget to leave a review/comment in the Bar and Restaurant Guide.