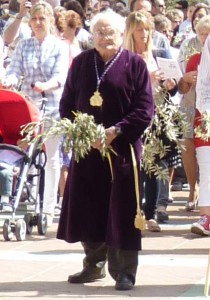 Palm Sunday – Domingo de Ramos – and the first procession of Semana Santa 2011 in Nerja.
Palm Sunday, the first Sunday before Easter, commemorates Jesus' triumphal entry into Jerusalem.
Following a benediction at the Ermita de Nuestra Señora de las Angustias in Plaza de la Ermita, the palm-waving procession made its way down to the iglesia El Salvador on the Balcon de Europa.
The Holy Week processions always attract large crowds and Palm Sunday was no exception. There is an old proverb relating to Palm Suday: Domingo de Ramos, quien no estrena algo, se le caen las manos (On Palm Sunday, the hands drop off of those who fail to wear something new). Semana Santa Photos