Plaza Cavana was a little on the quiet side yesterday evening but not so in other areas of town. The various bars and terraces on the Balcon de Europa were packed, hardly a seat available.
It was the same on calle Pintada and calle Cristo. La Piqueta on calle Pintada was very popular, as usual, and there were quite a few trying the new bar at the bottom of calle Pintada, La Mar Sala.
The Los Huertos de Carabeo car park, even though it is currently free for residents until a suitable agreement is reached on pricing, doesn't seem to be proving that popular. Normally, finding a space, particularly on a Saturday, would be a challenge, but not now.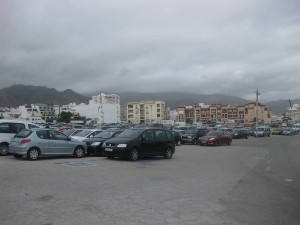 Maybe it's not going to be the cash cow the owners probably envisaged. Looks maybe 20% full, at most, which is quite a significant change. There was one coach in the area reserved for coaches and lorries. No lorries, though, just one coach and a few cars.
People are, however, now using the new free parking on the site of the proposed Health centre.
There are definitely more people parking on the streets at the moment.
Quite a bit of movement really on the bar and restaurant front this week, with Buddy's Bar, La Mar Sala and Centurion opening and the restaurant Meson La Bodega on Plaza La Marina reopening after being closed for a long time.
The (relatively) new Bella Atalaya on avenida Pescia, right next door to El Duque, is quite a nice place. Nice large terrace, covered at the moment, and a cup of coffee is only €1. The breakfasts are good and reasonably priced, haven't tried the tapas yet.
Seem to have the the International Clog-Wearing Furniture Feng Shui Association in the apartment above me at the moment. They begin their daily routine at around 00:30 and go on until about 02:30.