New on the scene in Nerja is the Peña El Rincón del Futbol, located in the small passageway near the end of calle El Barrio. The premises had been empty for many, many years now.
The bar is quite spacious inside, and a separate area has been set up with a big screen for the football. There is also a small terrace outside.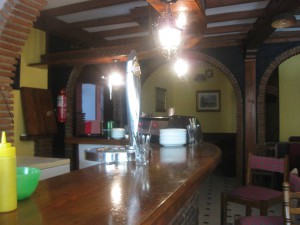 I had a tapa of beef in sauce with some small, thin French fries and it was very good. Large portion, well cooked and tasty. A beer and a tapa, €1.50, so competitive.