A fire in the El Tejar Alto and Barranco del Doctor areas of Frigiliana on Tuesday destroyed about three hectares of scrub, olives and pine. Despite being only about 800 metres from the town and with several villas in the affected area, evacuation of homes was not necessary.
The fire began at 12:55 for reasons as yet unknown, although some form of negligence is suspected. Helicopters bombed the fire with water for two hours, refilling their buckets from the municipal swimming pool.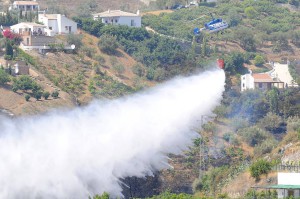 Special thanks to Colin McMorris for the photos.