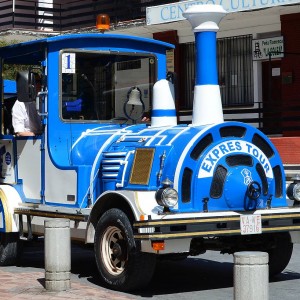 A new mini train, or "Wally Trolley" as some affectionately call it, will soon connect the Nerja Caves with the centre of Nerja, thanks to a collaboration agreement signed on Tuesday between the president of the Cueva de Nerja, Jorge Hernández Mollar, Foundation and the mayor, José Alberto Armijo.
This agreement aims to connect Nerja and the Caves to improve the flow of visitors to the cave. Users will be able to hop on and off the train as often as they like during a whole day. En route there will be a stop at the center of Maro and another at the Verano Azul park.
There will also be an audio guide service to inform tourists of monuments and places they are passing by, such as the Eagle Aqueduct, the ruins of Ingenio San Joaquin, the Chapel of Our Lady of Sorrows, Museum of Nerja, the village of Maro and the Nerja Cave itself. Around half a million tourists visit the Caves and this new initiative also aims to boost trade in Maro in this way.