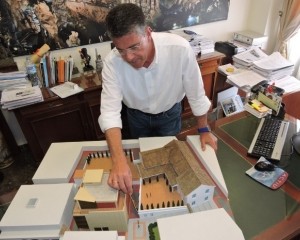 The Mayor had some important news regarding Nerja's tourism and culture offering, coinciding with the International Museum Day. Nerja will have its own municipal museum, the second museum in the town alongside the Cueva de Nerja Foundation's Museum.
José Alberto Armijo said that once the modification of the General Urban Plan got processed and approved,  the process could start in order to purchase the land on calle Animas, where the old mill was located, to construct the new Municipal Museum of Arts and Traditions/Popular Customs.
The mayor said that this new museum will "mean a cultural facility, a great tool for the preservation and dissemination of our heritage and a great tourist resource that will benefit both residents and visitors".
He added that "although right now we are in the purchasing phase to buy the property, and there is no technical project yet, we understand that we need to consider a number of different areas.
On the first floor, facing the calle Animas, there will be the museum area destined to cover customs and popular traditions, such as Carnival and Easter. On the second floor, facing the Cuevas de Nerja Foundation museum, there will be a 300 square meter space for the exhibition of paintings belonging to the Pictorial Municipal Heritage and temporary exhibitions could be held simultaneously.
There will also be a third area for outdoor exhibits and other cultural activities outside the museum.
The Mayor added that "regardless of greater details as to the museum contents, what is already clear to us is the preservation of the building because of its historical interest, something compatible with the access road to be built that will communicate calle Animas with the Plaza de España".
An investment of 900.000 euros will allow purchasing the property, which will become municipal holding.
The mayor congratulated councilors Nieves Atencio and Gema García for their work in the urban and cultural areas of the project and added that "we must congratulate everyone for getting Nerja their first Municipal Museum, as a clear commitment to culture, tourism and our economy".