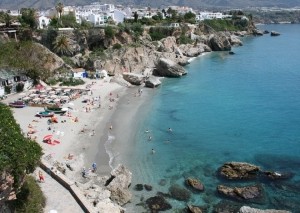 The new Councilor for Beaches has released a statement regarding the state of the town's beaches.
José María Rivas explains that once he was appointed Councilor for Beaches, his first move was to gather all information he could find, then check the actual condition of the beaches in Nerja. To do so, he requested information from the groups linked to the operation of concessions and facilities and, above all, the people visiting the beaches (neighbors, visitors and residents).
The councilman is surprised by the state of most of the beaches, which show some neglect. There are problems that could have been avoided had good planning been in place since the end of last season.
Beaches are one of the town's most important assets, according to the councilman. The town's people economy depends, directly or indirectly on the state of the beaches. Thus, there is no space for "bad planning". To avoid actions such as the ones from previous years, he emphasized the fact that the town council will use all means at its disposal to address, as far as possible, the problems that have been found. The town council is committed to start contacting groups involved in this area as soon as the summer season is over.
He also reminded everyone that his corporate email is available to neighbors, residents and visitors who wish to leave complaints, suggestions and ideas, to help planning next season. He wishes to help the town's beaches recover the excellent rating they deserve, and to try to get the long awaited blue flags to wave on the beaches in town.