Hayes Gin is the creation of an enterprising British couple and a few of their friends, who all share a love for the Mediterranean lifestyle that first brought them to Spain.
While hundreds of British expats dream of opening their own business in sunny Spain, most fail due to a lack of research and local knowledge.
Others like Chris Tunmore can spot a unique niche and create a distinctive product in a specialized market.
With the help of his wife and friends, the 52-year-old entrepreneur now runs his own artisan gin company on the Costa del Sol.
Chris moved to Spain in the mid-1980s in search of a better lifestyle and met his wife Carolina a few years later. The couple went into business opening up a print shop, but in 2010 decided to chase the "American Dream" and moved to the U.S.A.
Things did not go as they hoped, leaving them to abandon their ambitions and return to Spain with just pennies in their pocket.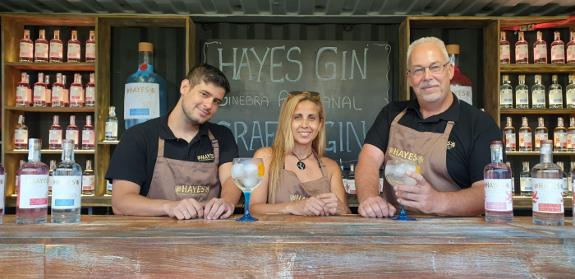 The experience of trying to make it in the States gave them the motivation needed to create an artisan gin company on the Costa del Sol.
In the beginning, they experimented with flavours and visited distilleries across Spain until they came upon a copper still made in Germany that would be perfect for the bold flavours they were looking to create.
"We could see how the British gin market was moving more toward flavoured gin as UK distillers were getting more adventurous with their flavours. However, the large Spanish gin distillers weren't experimenting with new flavour profiles. We wanted to create a line of premium gins using high-quality Spanish ingredients. We can't go up against the large established distillers on price, so we decided early on that we had to create something different," said Chris.
When asked about the lions on the Hayes logo Chris explained their meaning saying: "You will see there is a lion on either side of our logo: one is from the Spanish coat of arms and the other from the British. This represents our love for the two countries we are connected to. I would love to tell you there was a romantic reason behind the brand name, but the truth is that after spending almost a year trying to come up with a meaningful name, we simply put several names into a hat and Hayes was pulled out," he said.
Hayes Gin is available at events like the Marenostrum Music Park in Fuengirola and will be at a Gin Festival to be held in Elviria on the 26th and 27th of July.
If all goes to plan the couple are hoping to open their distillery and brewery in Fuengirola in 2020.