Popped up to the weekly market on Tuesday, check out how things are going.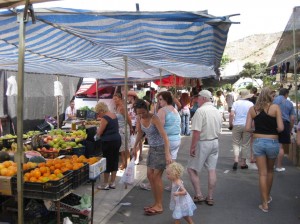 The market has been back in operation for three months now and I haven't managed to make it up there since the early days of June.
It was a choice between public transport and the pony belonging to Mr Shanks. so public transport it was. After waiting about 25 minutes at the bus stop, along came one of the small minibuses laid on especially for the market. 'Aha', we thought, but we were wrong. It was full.
The driver jerked his thumb over his shoulder to signify that another bus was following. What he failed to indicate was that it was not immediately behind, it was another ten minutes or so before it arrived. At least it was a bigger one and we all got on.
I'm pretty certain there was mention of a 'free' bus service to the market when 'negotiations' to relocate the market were in progress, but that seems to have fallen by the wayside. One euro each way.
There were a fair amount of people milling around the market but it was certainly not full or packed, part of this possibly due to the large area it now occupies. Difficult to tell, but I would hazard that the numbers are not what they were when the market was in the centre of town, nowhere near.
It is out of the way, you do need transport of some description, especially in the hot weather (or in the rain!), you can't just 'pop out to the market' if you're working and it doesn't, in my opinion, have that market 'feel' to it. Others may, and probably will, disagree.
The market does have everything, as it always did. Apart from a 'convenient' location of course. Just have to live with it because it isn't going to change now!
On the positive side, security for shoppers is improved. The wide open spaces and not being packed like sardines means less opportunity for pickpockets.
Another thing I miss, apart from the social, hustle-bustle 'atmosphere', is the old variety of watering holes along the way where you could take time-out and sit and people-watch. Ah well…