Most of the following rules are just common sense, but if you think you are above the law think again or else you may face having to pay a hefty fine.
The first one may or may not surprise you:
Using shampoo or gel in the showers
The showers on the beach are solely for getting rid of sand and salt from the seawater. The use of soap, gels or shampoo is strictly forbidden. The same goes for washing out cooking utensils or containers. If you are caught doing any of the above, you could face a 3,000€ fine.
Listening to music without earphones
Just because you might like a certain type of music doesn't mean that everyone else will which is why listening to music on the beach other than through earbuds or headphones is prohibited.
Games and racquets
In general, games are allowed to be played on the beach so long as they do not interfere with other sunbathers.
Hygiene
If you need to go to the toilet be sure and use the facilities provided or visit the nearest 'chiringuito.' Relieving yourself on the beach carries a 300€ fine.
Fires
Camp fired or bonfires on the beach are forbidden unless you have special permission from the local authorities. The use of gas or charcoal grills is also forbidden.
Not using the rubbish bins provided
Taking care of public spaces is the duty of every person who uses them, which is why putting litter or waste in anything but the provided bins is illegal.
Animals
In general, dogs are not allowed on the beach, but several municipalities are designating certain beaches as being dog-friendly.
Reserving your spot on the beach
Getting up early and marking out your territory with towels and umbrellas are forbidden. The Local Police in some municipalities will confiscate items if they are deemed to have been placed for later use.
Fishing
Fishing from the beach is not allowed from ten in the morning until nine at night.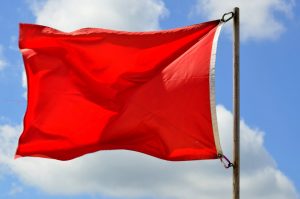 Going in the sea when the red flag is flying
Going in the sea when a red flag is flying is strictly forbidden as is ignoring lifeguards. Fines can range anywhere from 300€ to 3000€ depending on the seriousness of the offense.