With regards to yesterday's new travel restrictions for the region, here is an additional clarification regarding the rules: 
As published yesterday, travelling to Andalucia is not permitted from another country or region of Spain from 30th October until 9th November. However please note that this is for travelling by land and not by air travel.
Airspace in Spain has not been closed and flights arriving from other countries to Malaga airport or any other city in Spain, are still currently without restrictions at the moment.
Below, we have answered some popular questions based on what travel is and what is not allowed.
What if I need to leave Andalusia by land for justified reasons?
If you are travelling by land to another region in Spain from Andalucia, for example to catch a flight, ferry, train etc, returning home or for another justified reason, these circumstances are currently permitted. You will need to present confirmation of your booking as evidence of justification.
Can you travel from Nerja to Malaga with the new rules?
The good news is that travelling from Nerja to Malaga airport is permitted under the new travel restrictions, because Nerja is located within the province of Malaga.
Can I travel to nearby towns such as La Herradura or Almunecar?
If you live or are staying in Nerja, Frigiliana, Torrox or in any other town in the Malaga province, you are not permitted to enter any town in the Granada province. This includes La Herradura, Almunecar, Motril, etc. 
To monitor this there will be police controlling the borders of Granada province. Please be aware of police control areas such as the N340 coastal road just after the El Cañuelo beach and the motorway slip roads accessing La Herradura or any Granada town.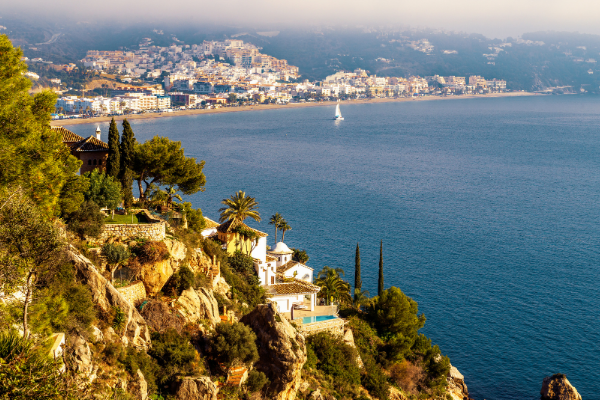 Are there any exceptions to this rule of not being allowed entry to other provinces?
Exceptions will be made for medical appointments, if you are working, attending school or other justified reasons. 
In the above circumstances, please ensure that you carry evidence of these justified reasons and be ready to present a written document or confirmation.
When leaving home it is advised that you carry your passport or copy of such, and a Padron certificate "volante" from the Town Hall to show your address here.
How do I get my Padron Volante?
At Nerja Town Hall, you can ask to obtain the padron volante on the ground floor which opening hours are Mondays to Wednesdays from 08:00am to 09:30am and from 10:00am to 2:00pm. To avoid queues, it may be better to arrive early in early morning or before closing time. 
The padron volante will be issued directly upon request.
If you have a digital signature certificate, you can also request this on the internet without having to come to the Town Hall.
Please note that information may be subject to change and therefore it's recommended to keep up to date with current news channels.