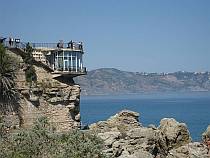 Nerja
, on the Costa del Sol, is a seaside resort of sandy coves sheltered by the impressive Sierra de Almijara mountains and often referred to as 'The Jewel of the Costa del Sol'.
A temperate climate means that Nerja is a great place to visit at any time of year.
Nerja is located 53 kilometres east of Málaga on the Costa del Sol and can be reached in about 40 minutes by car from Málaga airport or about an hour and a half by bus. Find information on
how to get to Nerja
, including the best options for
taxi and minibus transfers
and local taxi rates along with
bus timetables
.
Nerja Today
is your guide to Nerja and the surrounding area, with information on Getting to Nerja, Where to Stay, Places of Interest, Things to do, Nerja beaches, Nightlife, Nerja 4 Kids, Tapas Bars, Bars and Restaurants, Fiestas and much more....
Keep up to date with all the latest Local Nerja and Spanish News in English as well as Special Features, Exchange Rates, Football results and tables, Lotteries, Weather and much more...
Places of Interest in Nerja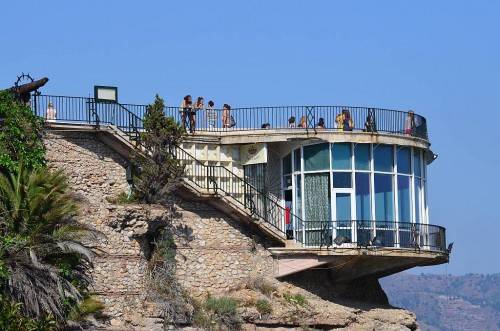 The
Balcón de Europa
is the focal point of Nerja, affording magnificent views up and down the coast.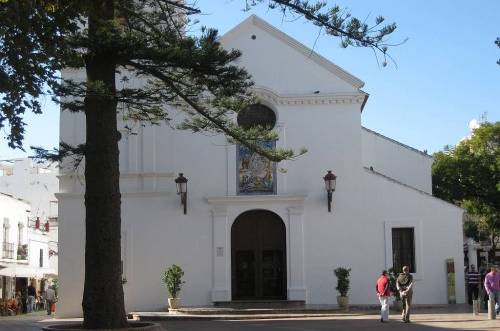 The
Iglesia El Salvador
is situated opposite the Balcón de Europa and close to what used to be the Guards Tower.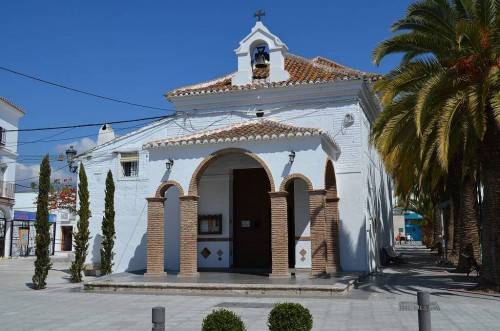 La Ermita de Ntra.Sra. de las Angustias
was completed in 1720 and contains frescoes of the four evangelists dating back to the 17th and 18th centuries.
The fishing boat 'La Dorada', made famous in the 1980's TV series 'Verano Azul', was the abode of the old seawolf "Chanquete", played by Antonio Ferrandis, and a replica stands in the
Parque Verano Azul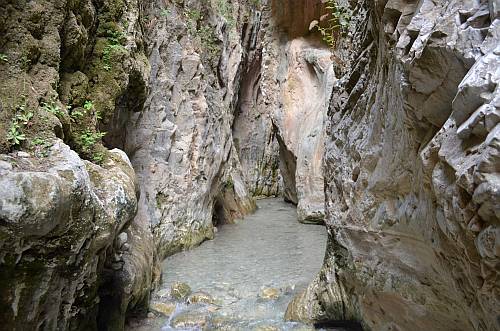 Los Cahorros del Rio Chillar
San Joaquin Sugar Mill
Eerie ruins on the edge of town.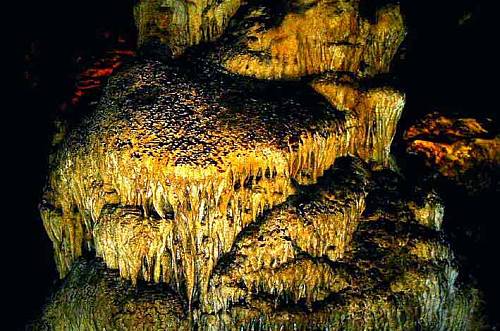 East of the town on the N-340 are the fabulous
Nerja Caves
-
Cuevas de Nerja
, a sight not to be missed.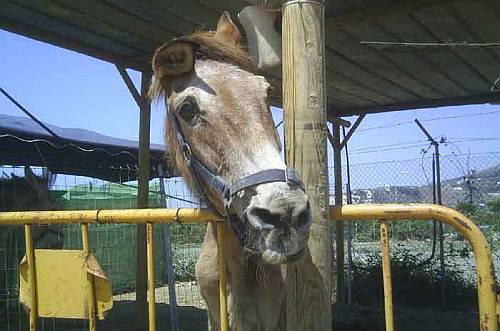 The Donkey Sanctuary
Pop in and see the animals, great for the kids. Don't forget to take a carrot, or two.
In Moorish times, the town was known as Naricha - meaning Rich or Abundant in Water.
Places to Relax
Nerja is littered with 'Plazas' of all shapes and sizes, some hidden away but worth finding. Here are just some of them. Great places to just sit outside with a coffee, or a beer, and watch the world go by.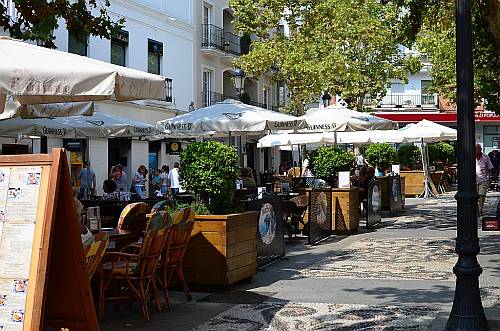 Plaza Cavana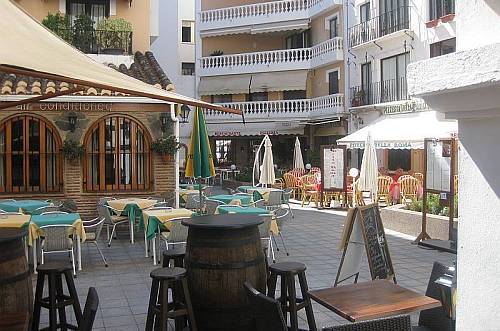 Plaza Balcón de Europa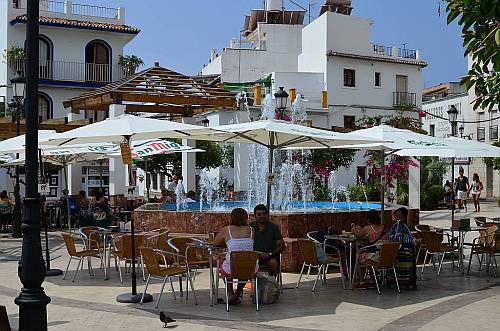 Plaza Cantarero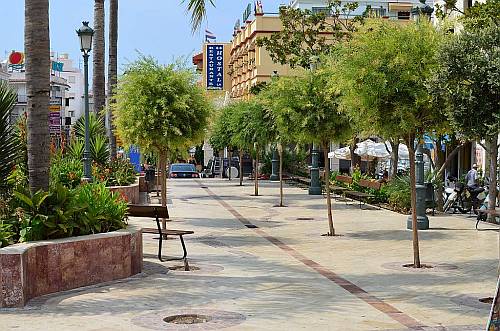 Plaza de la Ermita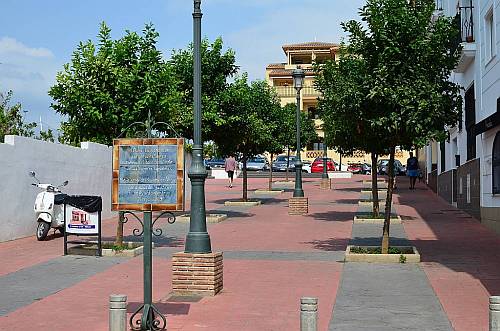 Plaza Clara Campoamor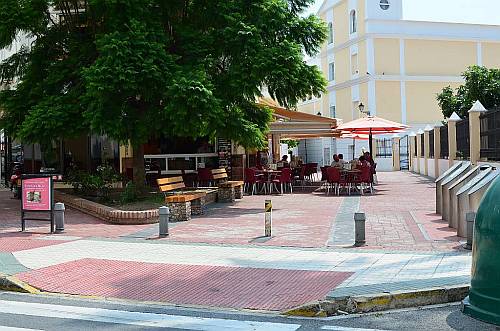 Plaza de las Monjas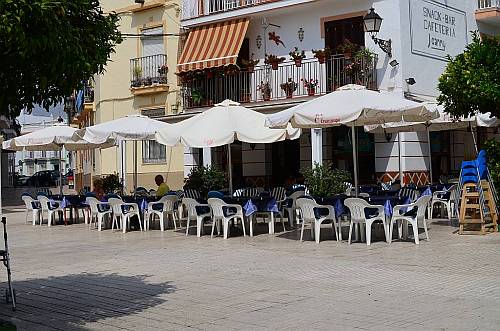 Plaza del Olvido
Plaza Tutti Frutti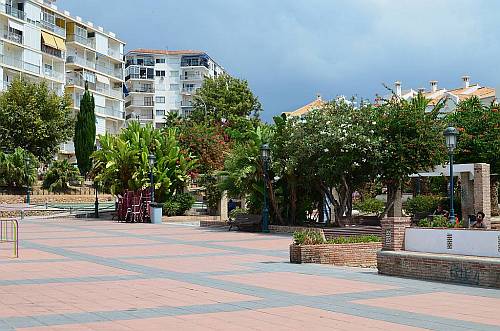 Plaza Fabrica de los Cangrejos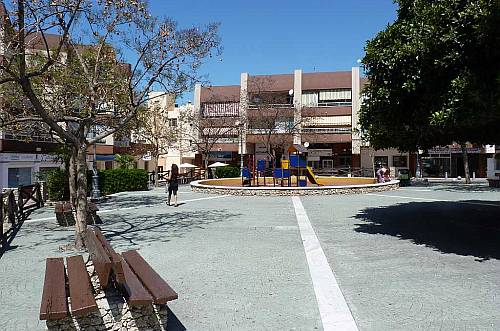 Plaza la Marina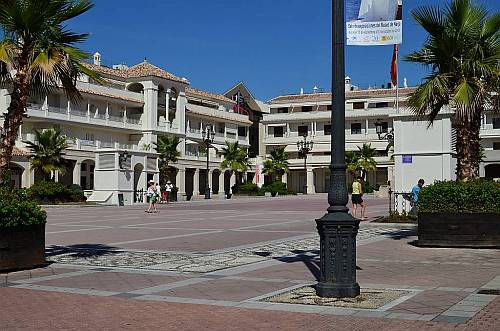 Plaza de España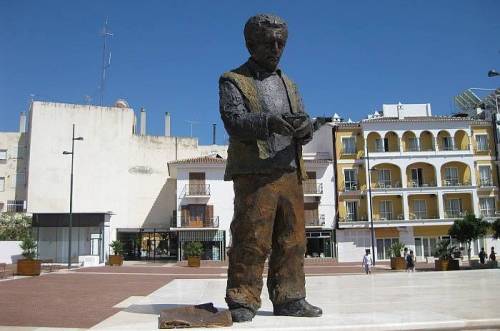 Plaza Cronista Pepe Pascual
Plaza de Andalucia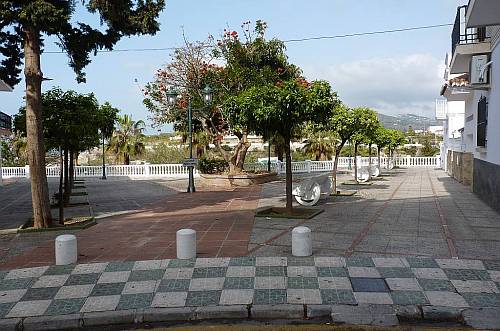 Plaza Maria Zambrano
By the way, if you are wondering how NERJA is pronounced, it is basically: Ner (sounds almost like 'nair') j (a gutteral 'ch' sound akin to the Scottish (not English) pronunciation of ch in 'loch') and a (as in 'cat'). And don't forget to roll your 'r's.....
Food and Drink
There are over 300 bars and restaurants in Nerja, offering a wide variety of styles and to suit every budget.
'Tapas' is not only a tasty alternative to lunch and a great way to sample a variety of local dishes, but also a very social occasion, and in the Tapas section of the Bars and Restaurants Guide you will find a few ideas for tapas 'runs'.
We also encourage you to post reviews and recommendations of bars and restaurants as a way of helping others visiting the town.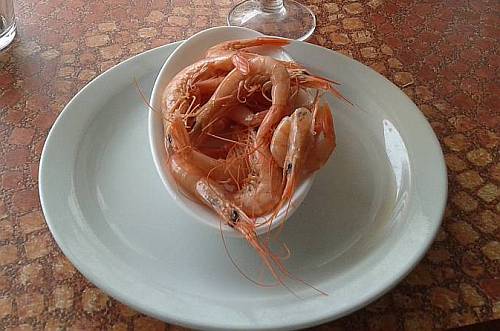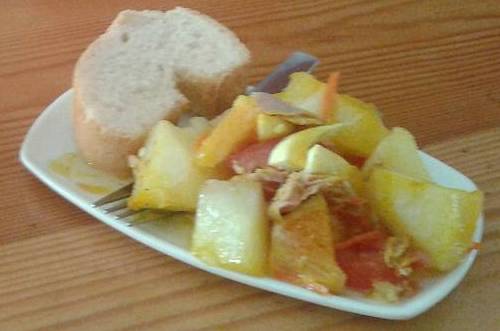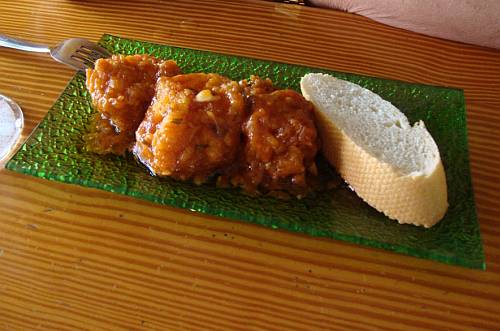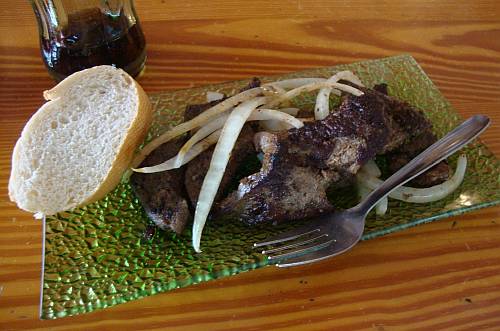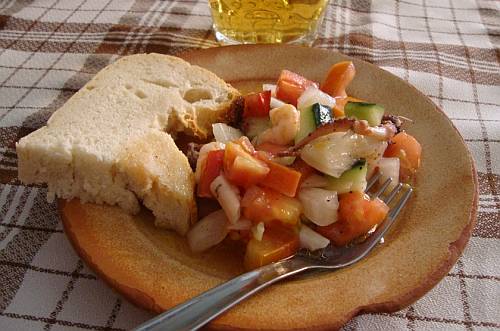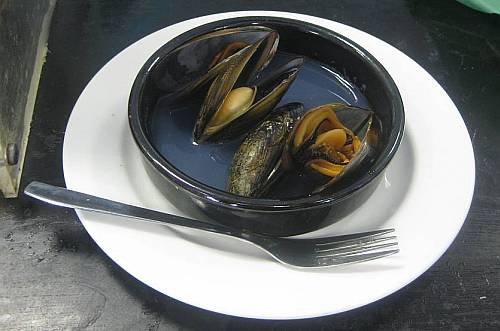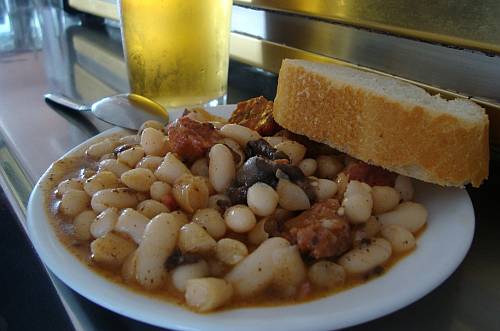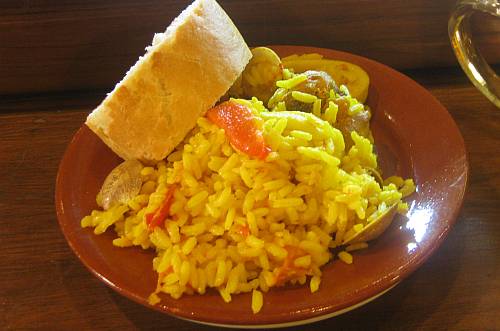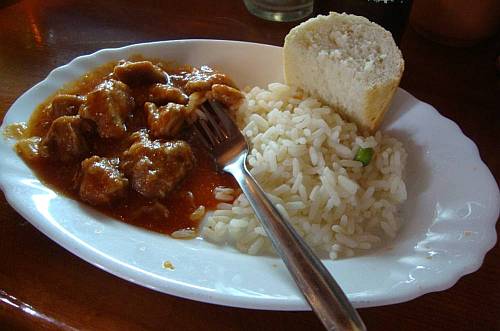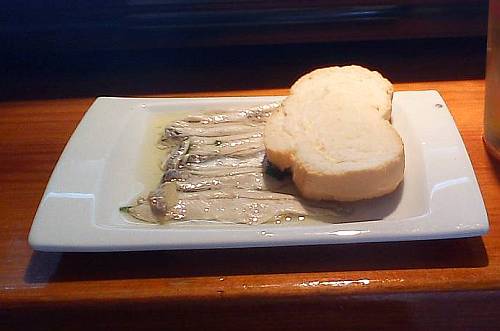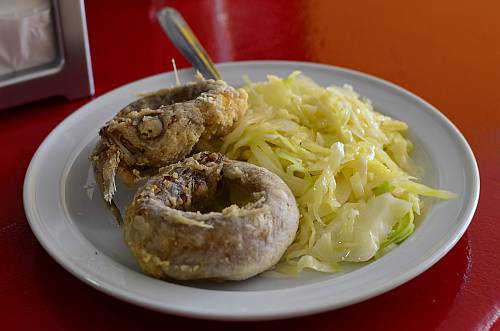 Need to know what it is in Spanish? Check out the Food Shopping Guide....
Getting Around Nerja
By far the best way of exploring the town is by Shanks' Pony, on foot in other words. Wander round, explore (and get lost in) the back streets and you'll not only discover and experience the real Spanish flavour of the town, but you'll also find those little, hidden-away 'plazas' and a host of typically Spanish bars and restaurants where beer and a 'tapa' is still only €1.20 or €1.30.
Bars and Restaurants
. Otherwise:
Indulge in a bit of retail therapy at either the Sunday Market/Car Boot Sale or at the regular Tuesday market

Take a leisurely tour of the town the old fashioned way. Starts (and finishes) at Plaza Fabrica de los Cangrejos and lasts +/- 30 minutes. The current cost is €30 per carriage, and this is regardless of the number of occupants. It's quite a good introduction to the town and a great way to get your bearings.
Taxis
are quite a cheap means of travel within the area, the main rank being at Plaza La Ermita - 95 252 4519.
Taxi Fares within Nerja
A local bus service operates within Nerja, the
Bus Urbano
or 'Blue Bus' as it known locally.
Car rental
is also a convenient way to get around and is readily available from Málaga. With most major suppliers on site, car hire at Málaga Airport is competitively priced and rental prices start from as little as 9 Euros per day and peak at around 20 Euros in the summer. For more information on car hire
go to our Car Hire Map
Average rainfall is 460 millimetres and the average temperature is about 20 degrees.
Beaches in Nerja
The municipality of Nerja, which includes the village of Maro, has 9 kilometres of coastline, with numerous sandy coves and beaches in and around the town, Burriana Beach being the main one and most popular.
Beach Guide.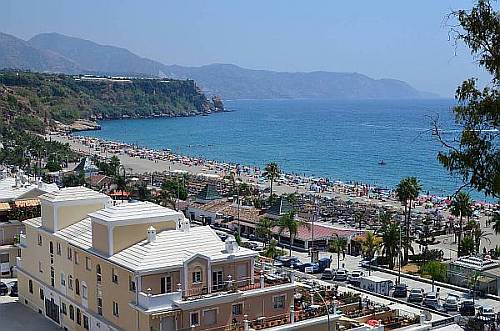 Burriana Beach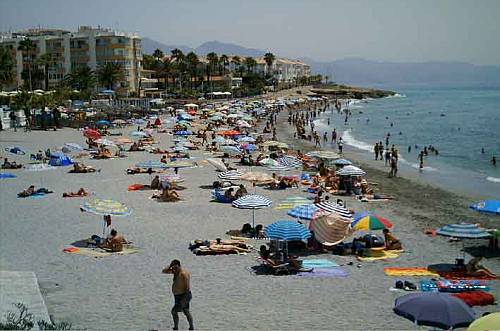 Torrecilla Beach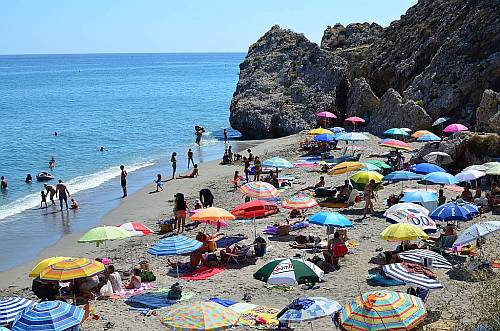 Carabeo Beach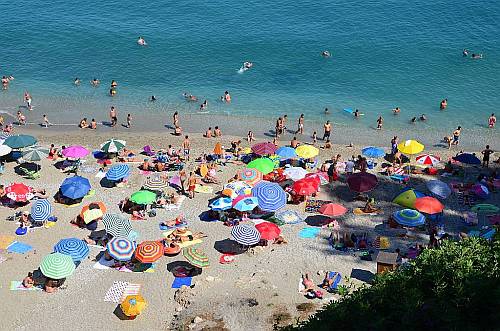 Carabeillo Beach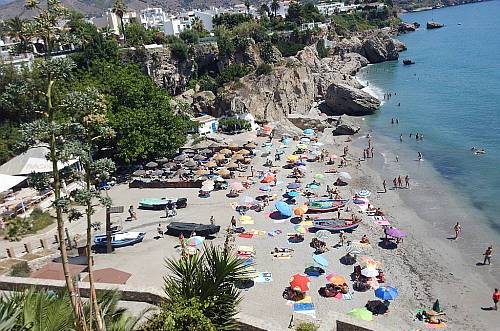 Calahonda Beach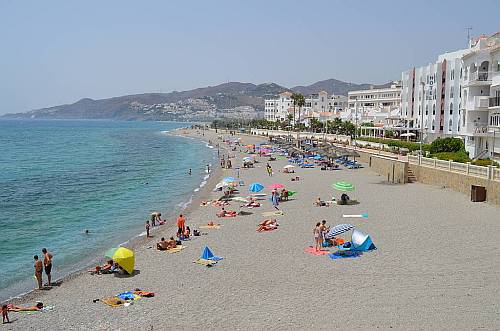 El Chucho Beach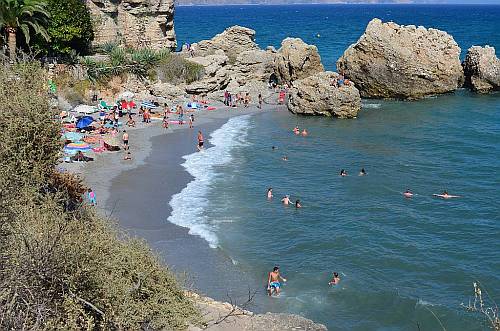 La Caletilla Beach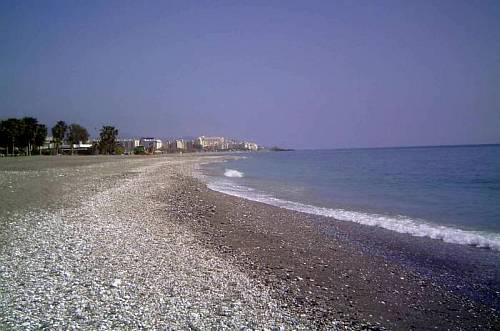 El Playazo Beach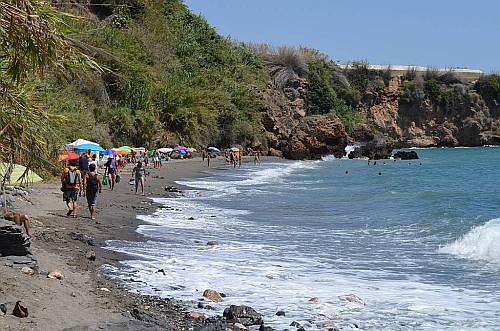 Caleta de Maro Beach
Maro Beach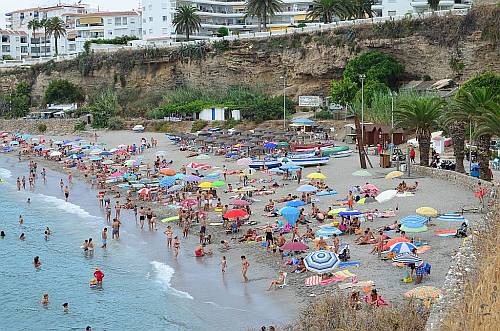 El Salon Beach
In 2006, the resident population of Nerja reached the almost magical figure of 20,000, an important milestone for Spanish municipalities as it has great bearing on funding for social and other services.
A Bit of Info about Nerja
Shops
in Nerja are generally open from 10.00-14.00 and 17.00-21.00, later in summer. From July to September 15th, seven day opening is permitted. The main shopping streets are Calle Pintada and Calle Cristo (known locally as Post Office Street). A supermarket on Burriana Beach is open on Sundays all year round, as are two on avenida Mediterraneo, and the BP garage carries a selection of foodstuffs, including bread.
Normal
Bank
opening hours (winter) are from 8.30/9.00 am until 13.30/14.30, Monday to Friday and from 8.30/9.30 until 12.00/1300 on Saturdays. In the summer, for some mysterious reason, banks are generally closed on Saturdays. (from June to September or October). See
Banks and Banking
for more details.
Nightlife
in Nerja tends to centre around Calle Antonio Millon and the adjacent Tutti Frutti Square, although you will find bars all over town open until the early hours. See
Nightlife
for more Info. Many Bars and Restaurants have regular 'live' entertainment throughout the year. See
What's On
for more details.
The
Post Office
, located in Calle Almirante Ferrandis (also known as Calle Cristo), is open from 08:30-14:30 from Monday to Friday and 09:30-13:30 on Saturdays. Stamps can also be purchased in most tobacconists.
The residents of Nerja are known as 'Nerjeños', their nickname is 'Morralleros'.
Getting to Nerja by Bus
The Express airport bus (A - Line 75) leaves from outside the T3 arrivals area and will take you to Malaga Bus Station. The ticket price is €3.00 and buses are every 30 mins.
From Malaga Bus Station, purchase a ticket from the Alsa Bus Company office.
The journey time is approximately 1 hour 25 minutes. The current cost is €4.52 one way.
For detailed information see
Nerja Bus Timetables
Getting to Nerja
Local Celebrations
Nerjeños certainly know how to party, the main celebrations of the year being:
New Year
Three Kings - January 6th
Carnival - February
Dia de Andaulcia - February 28th
Semana Santa (Easter week) - March/April
May Crosses - May 3rd
San Isidro - May 15th
San Juan - June 23rd/24th
Virgen del Carmen - July
Fiesta Blanca - August
Feria - Second week in October
Maroween - October 31st
Todos Santos - November 1st
Dia de la Constitución - December 6th
see
Fiestas
for more info and pictures.
The municipality of Nerja covers 84.4 square kilometres.
Electricity
The Spanish domestic power system is 220 or 225 volts AC. Standard continental two pin plugs and earthed three pin plugs are used. Two pin plugs will fit in a three pin socket.
Americans with 110V equipment will need a transformer, which can be purchased at most ironmongers (fereteria). UK standard plugs can be used with a plug adaptor, also available in most hardware stores and many supermarkets.
Currency
The unit of currency in Spain is the euro - symbol €
Coins are : cents 1, 2, 5, 10, 20 and 50, euros 1 and 2. The 1, 2 and 5 cent coins are copper coloured, the 10, 20 and 50 cent coins are gold coloured.
Notes are: euros 5, 10, 20, 50, 100, 200 and 500. The €5 is grey, €10 is red, €20 is blue, €50 is orange, €100 is green, €200 is yellow and the €500 is a sort of burgundy colour.
When getting currency from your bank, try to avoid notes above €50 as you will almost certainly have trouble exchanging them. Many establishments, even large supermarkets, refuse to accept €200 and €500 notes. The €500 note is exceedingly difficult to use.
Do shop around as currency exchange rates can vary quite considerably.