Today saw the staging of the 4th Rallyjet Championship – Copa del Rey in Nerja and with the usual aplomb, they didn't manage to start on time. Probably borrowed a timepiece from the car park builders!
At 12:30, just an hour after the scheduled start time, the first of the two races began, the jetskis whizzing up and down the coast between Burriana beach and the Balcón de Europa like a swarm of angry sea wasps.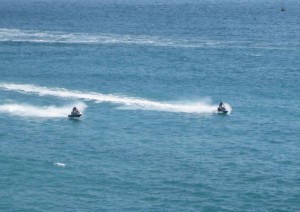 Quite a good turnout of people on the Balcón de Europa to watch the races.