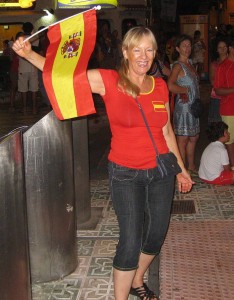 The scenes were similar all over the country as Spain fulfilled their dream of winning the World Cup, always having been regarded as the 'great under-achievers' on the world stage.
Plaza Tutti Frutti in Nerja was packed with people watching the match and thousands took to the streets to celebrate the well-deserved victory.
For the record:
Spain are the first team to win the World Cup after losing their opening game
Spain also became the team to win the World Cup having scored the fewest number of goals – finding the net eight times in their seven matches
Spain only conceded two goals in the tournament
Spain now join Brazil, Germany and France as the only teams to win both the World Cup and their respective continental cups.