The excavating has finished next door to the Hotel Carabeo 34 to leave a large, fenced-off hole. The actual roadworks in calle Carabeo start a little further down, just past the Verity beauty salon.
Anyone wishing to get to the end of calle Carabeo will need to do so by going via the Los Huertos car park and re-entering at Plaza Clara Campoamor, the road being blocked to pedestrians from where the steps go down to Carabeo beach.
There appears to have been a little, although not much, progress on this project. There is still a huge trench, complete with pungent aroma, just past the Verity Beauty Salon. You can, however, walk down the side of this one.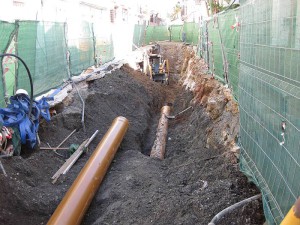 Further along, just past the steps down to Carabeo beach, there is another huge trench and the road is completely blocked at this point.
If you have made the detour via the Los Huertos car park, you can re-enter calle Carabeo via Plaza Clara Campoamor, passing on the way the 'overspill' from the roadworks.
And that is the current state of play in calle Carabeo.